Current Design Sketch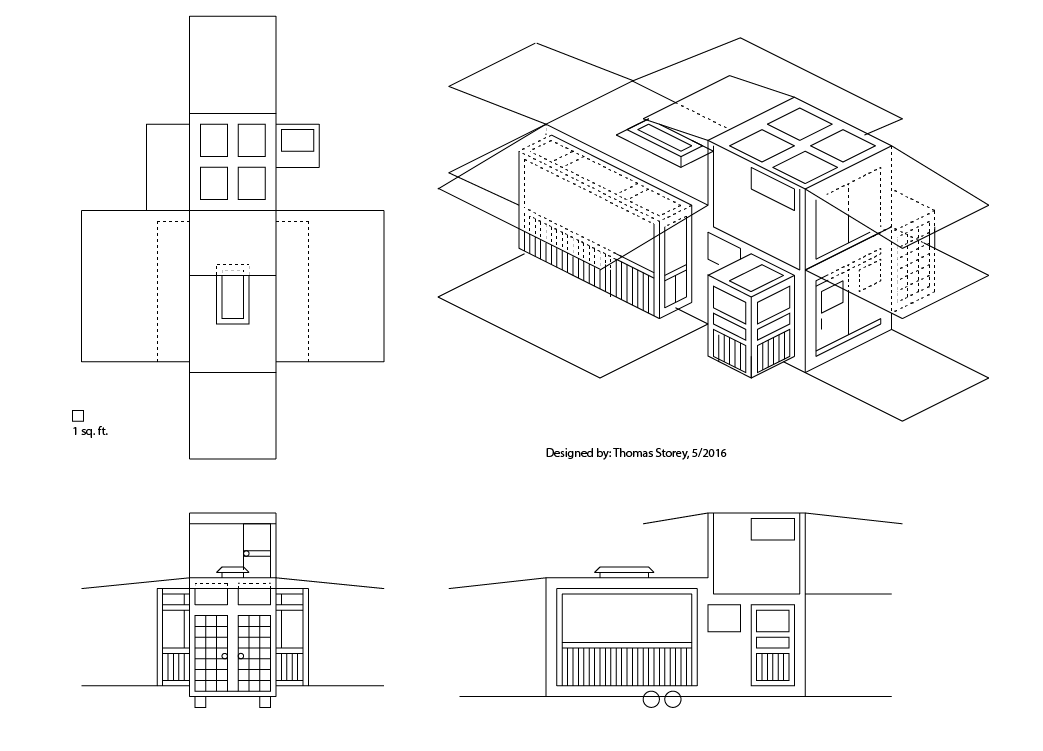 Features
Completely self-sufficient utilities: water from rain, power from solar, wind, etc., and waste composting.
An interior with high ceilings and plenty of natural light, designed to allow light to enter the house from a minimum of three directions everyplace in the house.
Flexible design features allowing four to ten diners at a single table and four plus adults to sleep.
Three-quarter wrap around first floor covered porch and Three-quarter wrap around second story balconies.
Second floor master bedroom:

Queen size bed
Private outdoor covered balcony
Hair and make-up parlor
Skylight for rain, stars, and sunlight

Bathrooms:

Instant Hot-water
Foot-pedal water control
Japanese-style drain and water management allowing for spills and easy cleaning
Half-Bath with a toilet, sink, and mirror
Half-Bath with a urinal, sink, and mirror
Half-Bath with full bathtub and large shower, featuring panoramic views of the outside, and a skylight

A 'circular path' design allowing a circular flow of traffic around the house.
A dinner and cafe table which can be moved or removed in the main hall. The dinner table can be used as a preparation table for cooking. Both will be made of butcher blocks.
An uninterrupted 70 square foot hardwood floor main hall, with high glass ceilings.
Built-in vacuum lines, with exterior ports for dust and crumb control.
A kitchen with:

Instant hot water
Foot-pedal water control
20 square feet of butcher block counter space
Miele appliances: vented gas stove, oven, dish-washer
Panoramic views
Vertically sliding space-efficient and artistic Cabinets
Custom glass door refrigerator

A Study, with conversions to:

two person porch swing
hanging day-bed
fixed-queen bed
full desk and chair or bench
half desk and chair or bench
open room

"Smart" heating and lighting with sensors throughout the house for comfortable, appropriate, and responsive light and temperature control when and where it's needed. A central computing system which can report and predict utility consumption. Kitchen, closet, and bathroom sensors to keep housing essentials always in stock (groceries, consumables, etc.).
Artistic gauges for rain and solar, utilizing beautiful visual and auditory cues to communicate information about power and water capture (as well as other pertinent environmental information).
A "Weasley Clock" featuring family location and other data.
Smarthouse responsive features which adjust sound, lighting, purchasing, window shade location, heating, etc. based on time of day, season, holiday, sunlight, weather, holidays, and number of occupants, etc.
Smart food and water control for pets and domestic animals with remote monitoring (data and video).
Embedded environment of plants providing oxygen, air-filtering, year-round growing, and aesthetic appeal, with automatically-controlled watering and sensing.
"Hidden" outlets (standard and USB).
Vertically sliding end-tables and drawers for space-efficiency and child-proofing.
Ability to compress and tow across US highways.
*Panoramic views mean at most 180 degrees of visibility outside through windows. Typically this means windows on three sides.
Sketches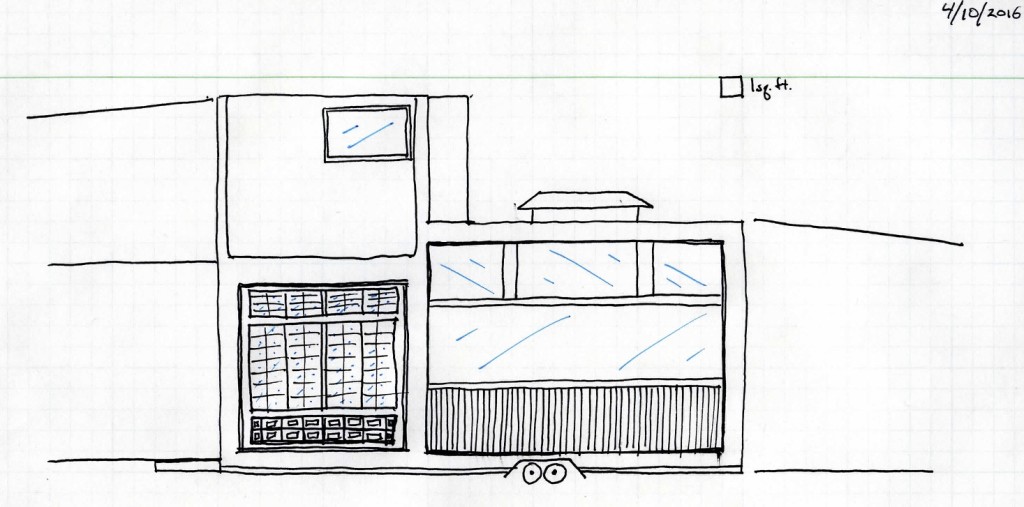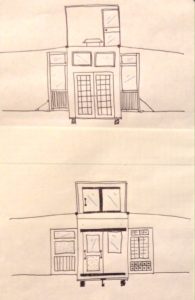 Third Sketch (2014 – 2015)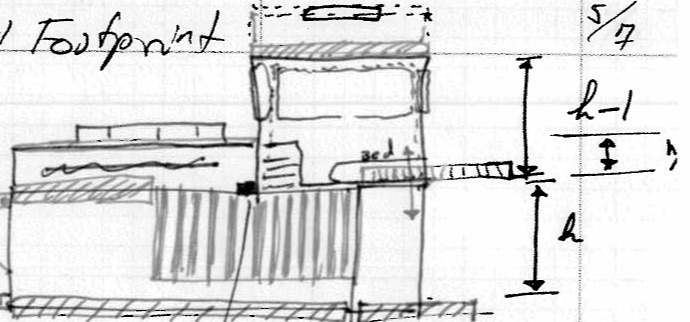 Second Sketch (2014 – 2015)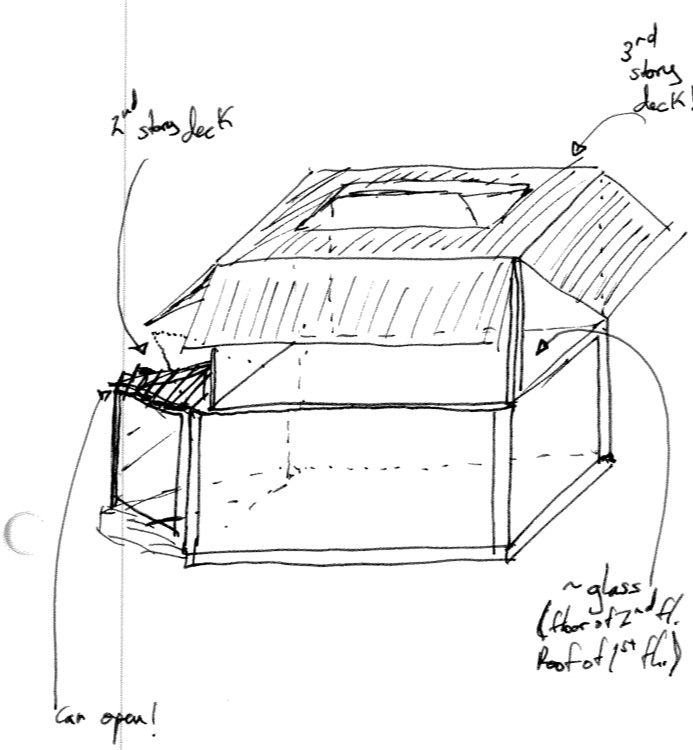 The First Sketches (2014)